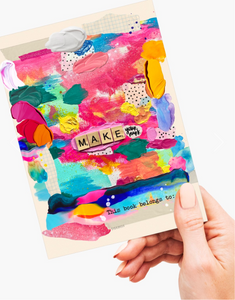 Looking for a compact yet effective tool to get your creative juices flowing?
Look no further than "Make Your Mark" - a journal-style mini book that is the perfect size to take with you wherever you go! With its guided prompts and exercises, you'll be able to tap into your unique strengths and passions, and develop a personalized vision for achieving your goals.
And the best part? You can truly make it your own - bring your favorite pens and art supplies to customize it to your heart's content. So whether you're at home or on the move, let "Make Your Mark" help you unleash your creativity and achieve your dreams!
Size: 4.25"x6"
Pages: 40
Proudly printed in Los Angeles, CA USA