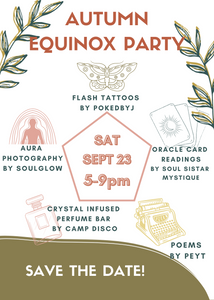 Entrance to the event is free.
$10 ticket is a voluntary donation and does not include any products at the event.
100% of the ticket sales will be donated to MAUI STRONG FUND!!!
Join us for our Autumn Equinox Party September 23rd from 5-9pm!
We will have a fun night full of activities!
Flash Tattoos by PokedbyJ
AURA PHOTOGRAPHY BY SOULGLOW
Crystal Infused Perfume Bar by Camp Disco