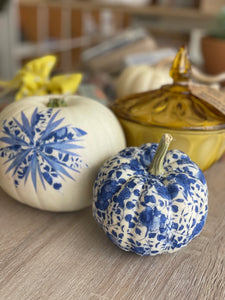 Class Description:
Stop by the shop ANYTIME between 10:30am and 1:30pm to decorate your own pumpkin!  We will be glueing colored tissue and decorative papers to our pumpkins, so NO CARVING NECESSARY!

Bring a friend.  Drink some Hot Apple Cider.  Make something cool!
All materials will be provided for a creative morning!

Level: Beginner
Workshop Info:
Date: Saturday, October 22, 2022
Time: Drop by ANYTIME between 10:30am and 1:30pm.  Our Halloween Costume Sale will be taking place from 2-6pm so feel free to stay and grab a cool costume!  Tickets for that event here.
Location: 
These Hands Maker's Collective
13347 W. Washington Blvd., Unit A
Los Angeles, CA 90066
About the Artist: 
Instructor, Denise Ambrosi is the owner and founder of These Hands Maker's Collective and has had more than 30 years of crafty experience.  When she's not MAKING ALL OF THE THINGS, she is roller-skating with her 8 year-old daughter and eating her hubby's yummy Italian cooking.
Our Terms: By signing up for a workshop or attending a function which we are hosting, you agree to the terms and conditions stated herein. You do hereby release THESE HANDS, LLC. or any person or persons acting on its behalf from liability for any bodily injuries sustained, or for loss or damage of any personal articles while on the premises or while participating in any activity sponsored by THESE HANDS, LLC. Furthermore, the undersigned agrees that in the event medical attention is required due to accident or illness, THESE HANDS, LLC. shall, without accepting fiscal responsibility, seek such medical services as it deems necessary and appropriate through EMs/911 and/or local hospitals.
Media Release: I hereby allow THESE HANDS, LLC. to take photographs, video, or audio of me and to use such materials for promotional and archival purposes only. If you wish to opt out, please make the instructor aware of that prior to the start of class.
Class / Workshop Etiquette: All scheduled classes and workshops start and end on time. Please be prompt in your arrival and departure, as we often have other classes starting after yours. Arriving 30 minutes late to a class counts as a no-show, and no make up class will be offered. Teachers are subject to change.
Refund policy: THESE HANDS, LLC. reserves the right to cancel any class due to low enrollment or unforeseen teacher conflicts. If a class is cancelled, we will do our best to reschedule the session.  If you are unable to attend, you will be issued a refund. 
Cancellation Policy: You may cancel a class for a full refund 21 days in advance of class/workshop start date. After that, the class is non-refundable.  This applies to all regular workshops. 
COVID policy: If you test positive for COVID, please do not attend your scheduled workshop.  Instead please contact us and let us know that you cannot attend.  If you would like to receive a credit towards a future workshop, please email us your Positive PCR results (it must be a valid test with your name included) or a doctor's note.  No refunds will be issued.
Gift Cards: Gift certificates can be applied toward all workshops, labs or These Hands Makers Collective merchandise.  Gift Cards can not be redeemed for cash.  Gift Cards do not expire.
Parking: Please note parking signs and regulation to avoid getting a ticket!