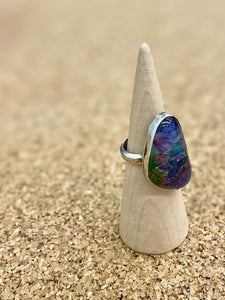 Class Description:
In this 2-part class, you will be making a statement ring! You'll choose your perfect focal piece from a variety of glass and stone cabochons, bezel set it, create your ring and then solder it all together. We do this over the course of two evenings. The skills involved in producing your piece include, soldering, sawing, and forging.

On the first day we make the bezels for your selection, solder it to sheet metal, and then saw (if you want) around the bezel.
The second day is when we shape the ring portion, and then solder that to the bezel. Once the ring is done, your cabochon can be set in place. You are then ready to enjoy your gorgeous new ring. We'll be working with sterling silver which is included in the price of the class. Tools are also provided for this 2 day/6 hour class (3 hours per day).

About the Artist:
Helping you find your creative space is what motivates Cathi in all of her pursuits, which include glass art, real estate, publishing, jewelry making, and assisting people to learn more about all of these things. She started with graphic design, but because of a life long love of jewelry making, and a discovery of glass bead making, she shifted over to the artist life.
Bead making lead to fusing glass and then blowing glass. Along the way, the bead making opened up opportunities to appear on craft TV, and write how-articles, and even a book on macrame. A brick and mortar location soon followed in Highland Park. Within her Highland Park community Cathi got involved in the neighborhood council, and then the local monthly art walk. This participation in the community lead to public art opportunities, including mosaic work for the first parklet in Los Angeles. After leaving the council, Cathi started publishing a print publication, first NELAart News, then changed to LA Art News. It was a nice 6 1/2 year print run, and now LAartnews.com is how you get your art news.
Cathi has recently moved into a new studio in Little Tokyo, The Makery, and splits her time between making, real estate, teaching, publishing her various websites, and creating how-to videos for her YouTube channel, The Creative Space. Follow her @cathicreatesspaces on the Gram.

Workshop Info:
Date: Wednesday, May 18, 2022
Time: 6:00pm-9:00pm
and
Wednesday, May 25, 2022
6:00pm - 9:00pm
Location: 
These Hands Maker's Collective
13347 W. Washington Blvd., Unit A
Los Angeles, CA 90066
COVID Updates:
We are following the CDC guidelines and updating our policies regularly.  At this point in time, proof of complete vaccination is required prior to entry.  The workshop will be held indoors and you are encouraged to wear a mask.  If you are having any symptoms prior to the workshop, please stay home and you will be credited for the class.  Hand sanitizer will be provided.
By registering for this workshop, you are agreeing to our Terms and Conditions.