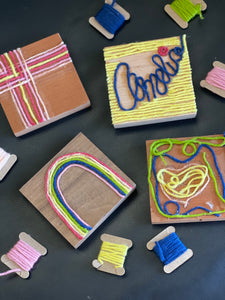 7 years old or older please.
THIS IS AN IN-PERSON WORKSHOP!  We will be outside and every student is required to wear a mask. 
Workshop Info:
Date: Thursday, Feb. 17, 2022
Time: 3:30-4:45pm
Ages 7 + (This is a drop-off event)
ONLY 10 STUDENTS PER CLASS
LOCATION:
Huzzah Toys
2122 Lincoln Blvd.  Venice, CA 90291
(2 Blocks North of Venice Blvd.)
Class Description:
Need a fun after-school activity for your kids that they will love? Drop them off at Huzzah's is outdoor patio for a really cool project. 
Yarn paintings are literally what they sound like... paintings made of yarn. Originally yarn paintings were from the Huichol Native Americans. Almost all Native Americans did not have a written language. Instead what many of them did was draw or paint their stories in various ways.

Yarn Painting is so much fun for all ages (adults included).  It's relatively mess free and something that very young kids can experiment with.
This is a fun + creative 1-hour workshop where all instruction and supplies are included. All are welcome from fiber newbies to crafty pros.
ABOUT THE ARTIST:
Instructor, Denise Ambrosi is the owner and founder of These Hands Maker's Collective and has had more than 30 years of crafty experience.  When she's not MAKING ALL OF THE THINGS, she is roller-skating with her 7 year-old daughter and eating her hubby's yummy Italian cooking. 
By registering for this workshop, you are agreeing to our Terms and Conditions.