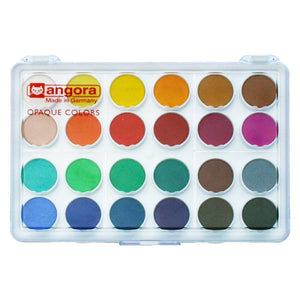 Angora Watercolor 24 Pan Multi-Color Set
These German-made watercolors are non-toxic; great for any age group! Each set is packaged in a convenient hinged plastic box with a transparent plastic cover to show off the brilliant colors. High-quality, thick watercolor cakes are durable, long lasting, and 22mm (7/8") in diameter. Each set includes transparent and semi-transparent colors.
This 24-colour set includes: White, Lemon, Yellow, Indian Yellow, Yellow Ochre, Dark Ochre, Flesh Tone, Orange, Vermillion, Crimson, Magenta, Pink, Turquoise, Yellow Green, French Green, Blue Green, Burnt Sienna, Light Grey, Cobalt, Ultramarine, Cyan Blue, Violet, Umber, Black.